Here's a customer's heartwarming letter that we received right before Christmas. Every year around this time we try to touch base with our bull sale customers from the previous year to see how things are going. We also reach out to those we haven't heard from in years to see how they're doing and if still enjoy receiving our catalogue every January. The responses we get are always genuine and we love reading them. They also help us write some great advertisements which resonate with folks.
Enjoy.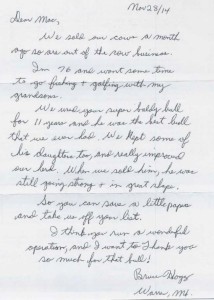 The letter reads…
Dear Mac,
We sold our cows a month ago so are out of the cow business. I'm 76 an want some time to go fishing + golfing with my grandsons. We used your super baldy bull for 11 years and he was the best bull that we ever had. We kept some of his daughters too, and really improved our herd. When we sold him, he was still going strong + in great shape. So you can save a little paper and take us off your list. I think you run a wonderful operation, and I want to Thank you so much for that bull!
Bruce Hogg
Warrenton, MB
We posted the letter on page 28 of the catalogue this year. You can also see it in our most recent advertisement.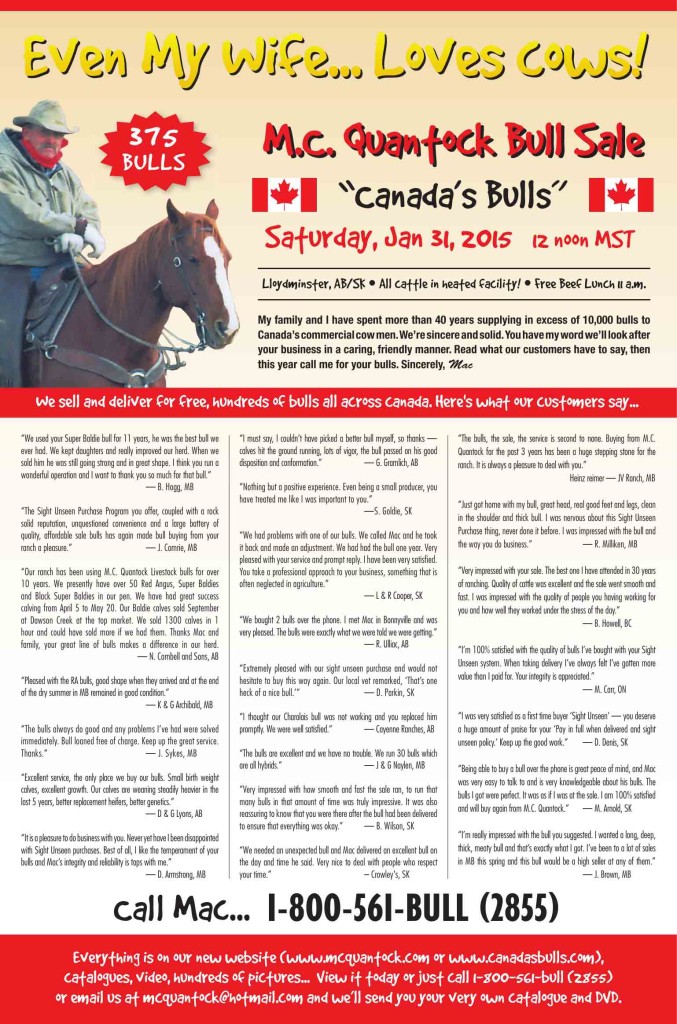 [Text from the advertisement above]
Even My Wife… Loves cows!
375 BULLS
M.C. Quantock Bull Sale
"Canada's Bulls"
Saturday, Jan 31, 2015 12 noon MST
Lloydminster, AB/SK • All cattle in heated facility! • Free Beef Lunch 11 a.m.
My family and I have spent more than 40 years supplying in excess of 10,000 bulls to Canada's commercial cow men. We're sincere and solid. You have my word we'll look after your business in a caring, friendly manner. Read what our customers have to say, then this year call me for your bulls. Sincerely, Mac
We sell and deliver for free, hundreds of bulls all across canada. Here's what our customers say…
"We used your Super Baldie bull for 11 years, he was the best bull we ever had. We kept daughters and really improved our herd. When we sold him he was still going strong and in great shape. I think you run a wonderful operation and I want to thank you so much for that bull."
— B. Hogg, MB
"The Sight Unseen Purchase Program you offer, coupled with a rock solid reputation, unquestioned convenience and a large battery of quality, affordable sale bulls has again made bull buying from your ranch a pleasure."
— J. Comrie, MB
"Our ranch has been using M.C. Quantock Livestock bulls for over 10 years. We presently have over 50 Red Angus, Super Baldies and Black Super Baldies in our pen. We have had great success calving from April 5 to May 20. Our Baldie calves sold September at Dawson Creek at the top market. We sold 1300 calves in 1 hour and could have sold more if we had them. Thanks Mac and family, your great line of bulls makes a difference in our herd.
— N. Combell and Sons, AB
"Pleased with the RA bulls, good shape when they arrived and at the end of the dry summer in MB remained in good condition."
— K & G Archibald, MB
"The bulls always do good and any problems I've had were solved immediately. Bull loaned free of charge. Keep up the great service. Thanks."
— J. Sykes, MB
"Excellent service, the only place we buy our bulls. Small birth weight calves, excellent growth. Our calves are weaning steadily heavier in the last 5 years, better replacement heifers, better genetics."
— D & G Lyons, AB
"It is a pleasure to do business with you. Never yet have I been disappointed with Sight Unseen purchases. Best of all, I like the temperament of your bulls and Mac's integrity and reliability is tops with me."
— D. Armstrong, MB
"I must say, I couldn't have picked a better bull myself, so thanks — calves hit the ground running, lots of vigor, the bull passed on his good disposition and conformation."
— G. Gramlich, AB
"Nothing but a positive experience. Even being a small producer, you have treated me like I was important to you."
—S. Goldie, SK
"We had problems with one of our bulls. We called Mac and he took it back and made an adjustment. We had had the bull one year. Very pleased with your service and prompt reply. I have been very satisfied. You take a professional approach to your business, something that is often neglected in agriculture."
— L & R Cooper, SK
"We bought 2 bulls over the phone. I met Mac in Bonnyville and was very pleased. The bulls were exactly what we were told we were getting."
— R. Ulliac, AB
"Extremely pleased with our sight unseen purchase and would not hesitate to buy this way again. Our local vet remarked, 'That's one heck of a nice bull.'"
— D. Parkin, SK
"I thought our Charolais bull was not working and you replaced him promptly. We were well satisfied."
— Cayenne Ranches, AB
"The bulls are excellent and we have no trouble. We run 30 bulls which are all hybrids."
— J & G Naylen, MB
"Very impressed with how smooth and fast the sale ran, to run that many bulls in that amount of time was truly impressive. It was also reassuring to know that you were there after the bull had been delivered to ensure that everything was okay."
— B. Wilson, SK
"We needed an unexpected bull and Mac delivered an excellent bull on the day and time he said. Very nice to deal with people who respect your time."
– Crowley's, SK
"The bulls, the sale, the service is second to none. Buying from M.C. Quantock for the past 3 years has been a huge stepping stone for the ranch. It is always a pleasure to deal with you."
— Heinz Reimer — JV Ranch, MB
"Just got home with my bull, great head, real good feet and legs, clean in the shoulder and thick bull. I was nervous about this Sight Unseen Purchase thing, never done it before. I was impressed with the bull and the way you do business."
— R. Milliken, MB
"Very impressed with your sale. The best one I have attended in 30 years of ranching. Quality of cattle was excellent and the sale went smooth and fast. I was impressed with the quality of people you having working for you and how well they worked under the stress of the day."
— B. Howell, BC
"I'm 100% satisfied with the quality of bulls I've bought with your Sight Unseen system. When taking delivery I've always felt I've gotten more value than I paid for. Your integrity is appreciated."
— M. Carr, ON
"I was very satisfied as a first time buyer 'Sight Unseen' — you deserve a huge amount of praise for your 'Pay in full when delivered and sight unseen policy.' Keep up the good work."
— D. Denis, SK
"Being able to buy a bull over the phone is great peace of mind, and Mac was very easy to talk to and is very knowledgeable about his bulls. The bulls I got were perfect. It was as if I was at the sale. I am 100% satisfied and will buy again from M.C. Quantock."
— M. Arnold, SK
"I'm really impressed with the bull you suggested. I wanted a long, deep, thick, meaty bull and that's exactly what I got. I've been to a lot of sales in MB this spring and this bull would be a high seller at any of them."
— J. Brown, MB
Call Mac… 1-800-561-BULL (2855)
Everything is on our new website www.canadasbulls.com,
catalogues, video, hundreds of pictures…… View it today or just call 1-800-561-BULL (2855)
or email us at mcquantock@hotmail.com and we'll send you your very own catalogue and DVD.