First Advertisement of the Season |Canadian Cattlemen Magazine
Our first advertisement of the season. Watch for it in Canadian Cattlemen Magazine.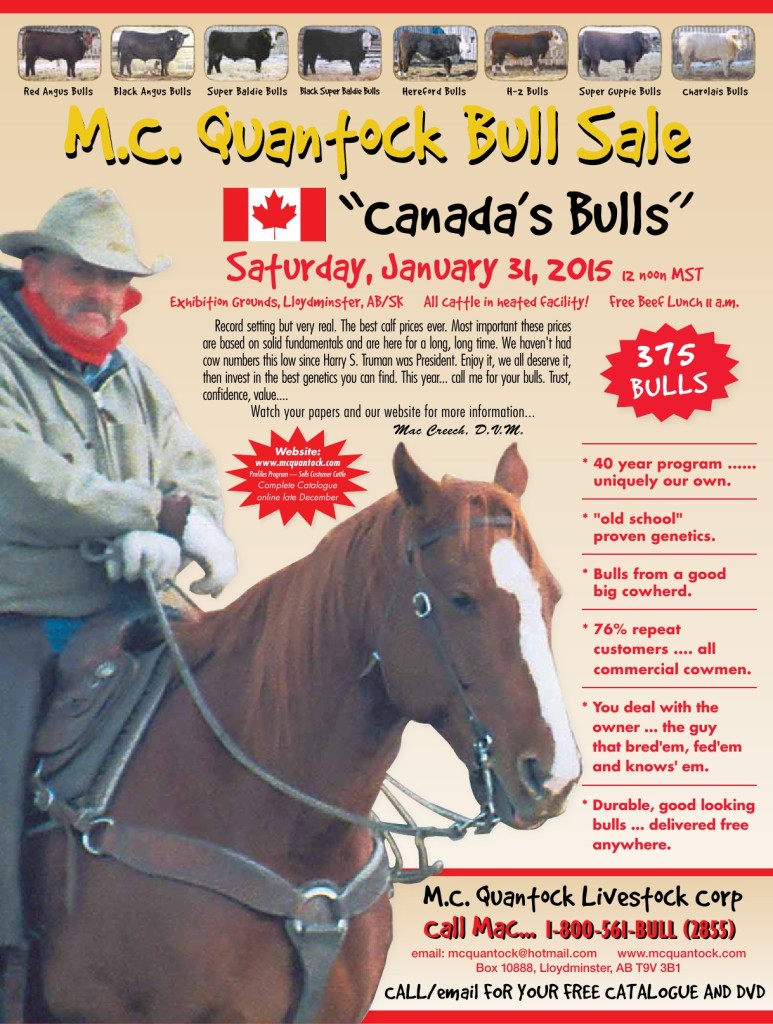 M.C. Quantock Bull Sale
375 BULLS
"Canada's Bulls"
Exhibition Grounds, Lloydminster, AB/SK
All cattle in heated facility!
Free Beef Lunch 11 a.m.
Saturday, January 31, 2015 12 noon MST
Record setting but very real. The best calf prices ever. Most important these prices
are based on solid fundamentals and are here for a long, long time. We haven't had
cow numbers this low since Harry S. Truman was President. Enjoy it, we all deserve it,
then invest in the best genetics you can find. This year… call me for your bulls. Trust,
confidence, value….
Watch your papers and our website for more information…
Mac Creech, D.V.M.
* 40 year program…
uniquely our own.
* "old school"
proven genetics.
* Bulls from a good
big cowherd.
* 76% repeat
customers… all
commercial cowmen.
* You deal with the
owner … the guy
that bred'em, fed'em
and knows' em.
* Durable, good looking
bulls… delivered free
anywhere.
Red Angus Bulls
Black Angus Bulls
Super Baldie Bulls
Black Super Baldie Bulls
Hereford Bulls
H-2 Bulls
Super Guppie
Bulls Charolais Bulls
M.C. Quantock Livestock Corp
Call Mac 1-800-561-BULL(2855)
CALL/email FOR YOUR FREE CATALOGUE AND DVD
email: [email protected]
www.mcquantock.com
Box 10888, Lloydminster, AB T9V 3B1
Website:
www.mcquantock.com
Profiles Program — Sells Customer Cattle
Complete Catalogue
online late December